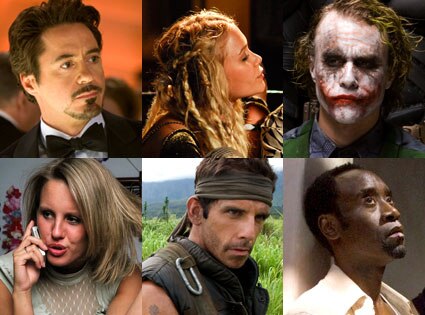 Labor Day marks the end of this historic summer-movie run, packed with a diverse selection of choices for moviegoers—and tons and tons of money for Hollywood. Why? Because the movies were good. Really good. Here's a quick look at my picks for the 10 best movies from the summer of '08:
10. Traitor: Clearly, Don Cheadle's been hanging with Matt Damon so much, he wanted to make his own Bourne-style film—and he made a pretty good one while he was at it.
9. Mongol: A sweeping epic for the ages surrounding the early life of Genghis Khan during his days as a slave, before he conquered half the world and was then sucked into a phone booth and taken to San Dimas, Calif., where he destroyed a sporting-goods store. Wait, I might be mixing this up with Bill & Ted...
8. The House Bunny: Even though my dialogue was cut out of the film, Anna Faris was the funniest actresses at the movies this summer, hands-down.
7. Son of Rambow: A Sundance favorite from England, featuring talented young actors whose characters love Rambo movies so much, they go out and make their own. Brilliant.
6. American Teen: Another film from Sundance that documents the lives of teens in Indiana. A refreshing break from High School Musical to say the least.
5. The Wackness: aka the story of my life growing up in New York—minus the ice cream cart.
4. Bra Boys: Aussie doc about surfers narrated by Russell Crowe that should be turned into a scripted feature.
3. Tropic Thunder: Some found it offensive, which I respect and understand. I, however, found it funny as s--t.
2. Iron Man: Director Jon Favreau exceeded the enormous expectations for this film, thanks to spot-on casting and Marvelous storytelling.
1. The Dark Knight: Batman. The Joker. Harvey Dent. My man Debo from Friday as that prisoner on the boat. What else could you want from a summer movie?
But enough out of me. What did you think was the best flick of the season? Sound off in the comments!